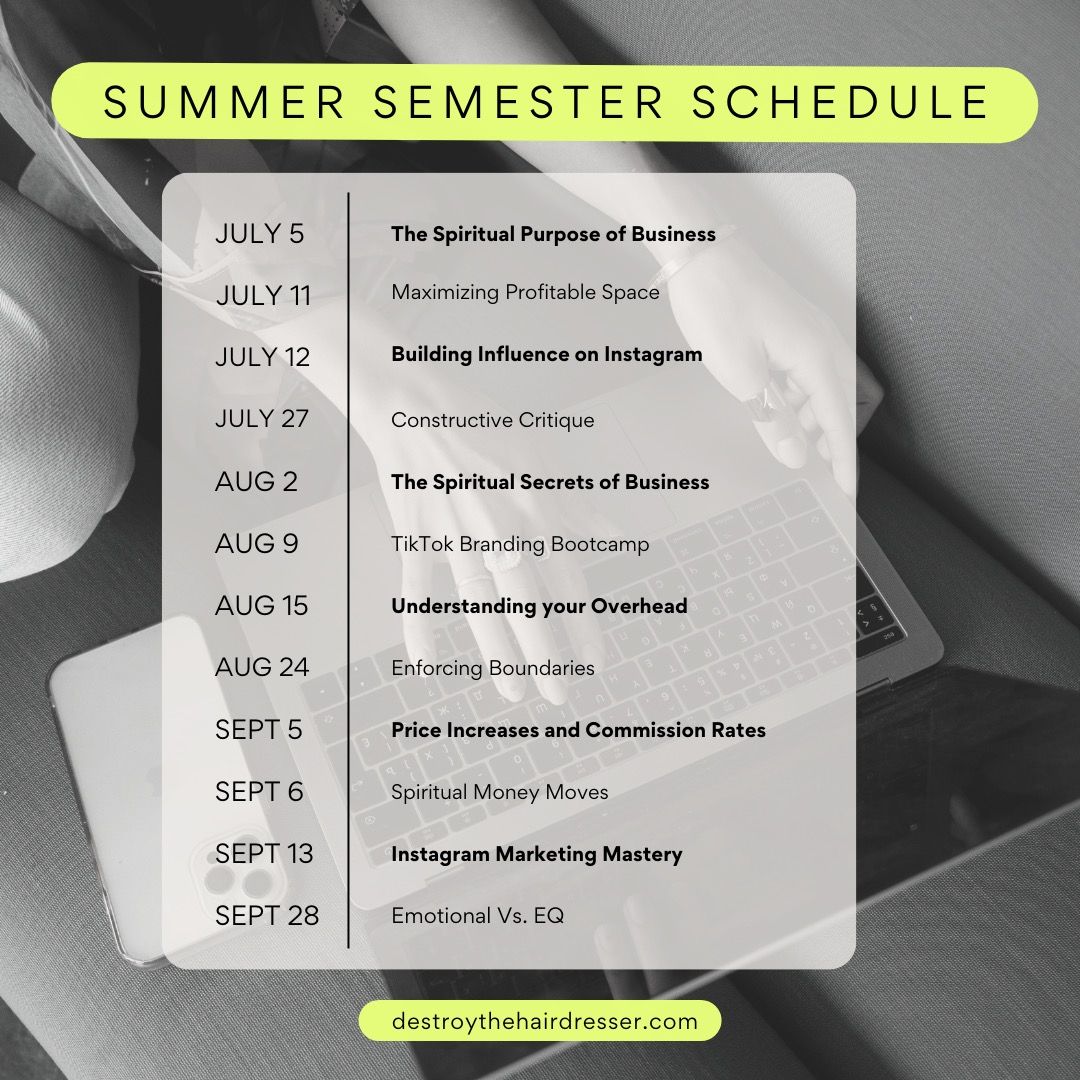 Don't want to wait?
Get started today!
👇
Self-guided Coaching
With self-guided coaching, you can unlock access to all live courses from every educational department we have. Explore different focus groups and labs! Our self-guided coaching program is one of the most robust business programs for hairdressers and salon owners.
Learn more
Guided Coaching
Our guided coaching option unlocks everything in our self-guided program and more. With guided coaching, you can choose a coach to work with one-on-one, receive practical advice, and gain extra help with implementing what you're learning at Destroy the Hairdresser.
Learn more
"I feel like I've been let in on some big secret about how life can actually be. [...] Signing up for coaching was the best thing I could've done for myself this year. I am just... shook."
_

Meg Landis

FIND THE PROGRAM THAT'S RIGHT FOR YOU
SELF-GUIDED COACHING
Gain access to live weekly classes, labs, & focus groups with the founders of Destroy the Hairdresser and their team of train coaches
Enjoy 24/7 access to our virtual campus via a private app
Choose a focus group to be part of to personalize your self-guided education even more!
Gain access to 120+ hours of recorded conscious business education
LEARN MORE
1:1 GUIDED COACHING
Everything in the self-guided path plus...

Your own coach.

Bi-weekly 1:1 phone sessions for 30 minutes.

Unlimited messaging

Private homeroom

Advanced courses
LEARN MORE
2023
DESTROY THE HAIRDRESSER INTENSIVES
If you are looking to dive deep into DTH methods, principles, values, and philosophies, then our live virtual intensive courses are for you!
MEET THE FOUNDERS
The Disruptive Darlings of the Salon Industry
"We wanted to create a coaching company with no affiliation to a product company. We felt that most business education was coming from major beauty brands that were controlling the narrative of how salons should be set up and run. Unfortunately, if their methods worked, there would be many more successful salons and more wealthy salon owners and hairdressers. But it's ok because we are going to change this."
- David Bosscher
---
"Step one? Disrupt all the current systems, structures, and rules that big beauty companies have convinced the salon industry to implement. Step two? Help each hairdresser and salon owner change their businesses for the better, one by one. It's a lot of work, and we are happy to do it."
- Cyd Charisse
READ OUR STORY